Mr. Daniel Mutiso Nthiwa Profile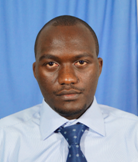 Name: Daniel Mutiso Nthiwa
Title/Qualification: Masters of Science in Applied Parasitology
Position: Tutorial Fellow
Department: Biological Sciences
School:  Pure and Applied Sciences (SPAS)
Area of Specialization:  Parasitology/ Immunology
Telephone: 0726241617
E-Mail: This email address is being protected from spambots. You need JavaScript enabled to view it., This email address is being protected from spambots. You need JavaScript enabled to view it.
Short Biography
Daniel Mutiso is a Tutorial fellow at University of Embu. He holds a Bachelors of Science degree in Biology and a Masters in Applied Parasitology from the University of Nairobi. He is currently pursuing Doctorate degree in Applied Parasitology at University of Embu. His PhD focus is on the Epidemiology of Schistosomiasis and Soil Transmitted Helminth Polyparasitism in Machakos County, Kenya.
Research Interests
Animal Health Research with focus on:
Development and application of molecular markers for diseases diagnostics and surveillance.
Emerging Zoonotic diseases and the role of wildlife as potential reservoirs.
Vector control with emphasis on the development of various insecticide attractant delivery systems for control of vector borne haemoparasites.