Prof. Eucharia Kenya Profile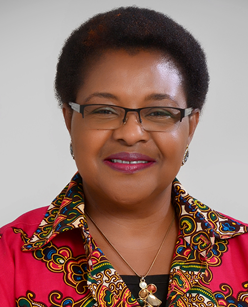 Name: Eucharia Unoma Kenya, Ph.D.
Position: Deputy Vice-Chancellor, Planning Administration & Finance
Department: Biological Sciences
Area of Specialization: Biochemistry & Biotechnology
Contact Address: University of Embu
Telephone: +254 705 945 408                                                    
E-Mail: This email address is being protected from spambots. You need JavaScript enabled to view it.
 
BIOGRAPHY
Prof. Eucharia Kenya is currently the Deputy Vice-Chancellor in charge of Planning, Administration and Finance, at University of Embu. She is a Professor of Biotechnology with expansive international experience and expertise on Biosafety and Biosecurity issues. Previously she taught at the Department of Biochemistry and Biotechnology, Kenyatta University, Nairobi, for over 10 years. During this period, she supervised over 30 postgraduate students and published several peerreviewed papers. She has attracted substantial grants that have benefited many students in the greater East African Region and fostered collaborative projects and partnerships that have contributed in strengthening capacity in different aspects of biotechnology.
She is a very active player in the agricultural biotechnology sector in Kenya and served as a member of the steering committee under the Ministry of Agriculture, that developed the 'Agricultural Biotechnology Awareness Strategy for Kenya (2008)'. She was deeply involved in the discussions that culminated in the enactment of the Kenya Biosafety Act (2009) and has also participated on regional efforts at harmonizing these laws.
As an educator, she has participated in many outreach activities to key biotech stakeholders including policy makers & technocrats, parliamentarians, scientists, teachers, farmers and the media. These activities have covered areas spanning General Biotechnology, Risk Communication (Safety of GM technology), Media Relations (for Scientists), the Art of reporting Science (for journalists), Policy formulations and Regulatory landscaping and Practice in Africa, with reference to adoption of GM Technology/Biosafety and Biosecurity.
Prof. Kenya is a founding member of the Open Forum for Agricultural Biotechnology in Africa, a flagship project of the African Agricultural Technology Foundation, headquartered in Nairobi, Kenya.
On the international scene, she has been very active in the activities of the Biological Weapons Convention (BWC) and the Organization for the Prevention of Chemical Weapons (OPCW) and is a member of the Chemical Weapons Convention Coalition. Her thrust in these organizations is to articulate the need for increased capacity strengthening and enactment of laws that will enable African countries gain from international efforts by the global community in making everywhere safe for human existence.
 
RESEARCH INTERESTS
Agri-Biotechnology
Biosafety & Biosecurity
 
PRESENTATION OF PAPERS AT ACADEMIC AND PROFESSIONAL CONFERENCES
KENYA, EU. (2012). Prospects of Biofuel Production in Kenya from Microalgae.  International Conference on GM Crops ands Foods.  Organized by the Faculty of Agriculture, Cairo University, Egypt. 26th – 29th Nov. 2012
KENYA, EU. (2012). Promises and Reality of the GM Revolution.  African Science Journalist Conference.  Organized by the Media in Environment, Science, Health and Agriculture (MESHA). Nakuru, Kenya. 20th – 23rd August 2012.
KENYA, EU and KAREMBU, MW (2012). Communicating Biosafety Issues in Modern Biotechnology.  African Science Journalist Conference.  Organized by the Media in Environment, Science, Health and Agriculture (MESHA). Nakuru, Kenya. 20th – 23rd August 2012.
EUCHARIA KENYA, MARGARET MUTURI, CHANDRE GOULD. (2012). Assessment of Capacity in Research and Diagnostic Laboratories in Nairobi: Implications for Biosafety and Biosecurity.  1st National Biosafety Conference. Organised by the National Biosafety Authority. Nairobi, Kenya. 6th – 9th August 2012.
OKUN, D. O., KENYA, E.U., MULUVI, G. M. (2011). Distribution of Indigenous Isolates of Aspergillus flavus and Aspergillus parasiticus in Kenya.  International Conference of Women in Science and Engineering (WISE), 28 – 29th September 2011, Malaysia.
KENYA, E.U and MUTURI, M.W. (2011).  The Preparedness for Implementation of the Chemical Weapons Convention Requirements in Kenya. Seminar on OPCW's Contribution in the Security & Non-Proliferation.  Organized by the Organization for the prohibition of Chemical Weapons.  11 – 13th April 2011.  The Hague Netherlands.
KENYA, E.U. and MUTURI, M.W. (2010).  Country Report for Kenya: Bioweapons Monitoring Project. BioWeapons Monitor Coordination Meeting: A side event of the Expert Committee Meeting of the United Nations Bioweapons Convention.  23rd – 27th August 2010, Palais des Nations, Geneva, Switzerland.
KENYA, E.U. (2010). Public Acceptance of GM Crops: The OFAB Experience. An AATF side Event during the 5th African Agriculture Week and FARA General Assembly. 19 - 24th July 2010, Ouagadougou, Burkina Faso.
KENYA, E. U. (2009).  Encouraging Women in Business: From Challenges to Success.  A Regional Leadership Training Workshop on Reporting on Agriculture and Women.  23rd – 26th February, 2009, Kampala Uganda.
KENYA, E. U. (2008). Engaging Scientists in Biosecurity: An African Perspective. An International Workshop in East Africa: Promoting Biosafety and Biosecurity within the Life Sciences. 11-12th  March, 2008, Kampala, Uganda.

GRANTS AND AWARDS
World Health Organization, GAR Grant No.200370707: An Assessment of Research & Diagnostic Laboratories in Nairobi and Surrounding Areas, Kenya. Eucharia Kenya (PI) and Margaret Muturi. 2011 – 2012.  USD 31,731.
Bill & Melinda Gates Foundation Global Development Grant No. OPP1026630. Member of African Agricultural Technology Foundation team. 2010 – 2011. USD 200,000.
European Union – African, Caribbean and Pacific Group of States (EU-ACP Group): Developing Capacity for Participatory and Marker Assisted Plant Breding to mitigate low Crop productivity and poor Food Security (CAPACITATE East Africa).  2009 – 1013.  Charles Ssekyewa (PI, Uganda Martyrs University, Uganda),
Katherine Steele (Bangor University, UK), Eucharia Kenya (Kenyatta University, Kenya), Valerie Palapala (Masinde Muliro University of Science and Technology, Kenya), Segenet Kelemu (BECA-ILRI, Kenya), Dan Kiambi (ICRISAT, Kenya). € 785,074)
National Council for Science and Technology: Microalgae species diversity, abundance, and their potential for biofuel in Kenya. 2009.  Laila Abubakar (PI),  Eucharia Kenya and Alfred Muhoho  2009.  Ksh 1,909,000.
Monsanto (Kenya), Biotechnology Training Workshop for High School teachers: A Mentorship Programme for Strengthening the Teaching of Biotechnology by Science Teachers. Margaret Karembu (PI), Danette Ward and Eucharia Kenya. 2008.  USD 50,000
The German Academic Exchange Service (DAAD) – Postgraduate support grant on "Geographical distribution and Molecular Characterization of Aflatoxin Producing and Non-producing Isolates of Aspergillus flavus and Aspergillus parasiticus in Kenya" 2008 – 2010.  Daniel Okun (PhD student), Eucharia Kenya and Geoffery Muluvi.  USD 4,200.
British Council/DfID - Developing Partners in Higher Education (DelPHE-KENYA Project  No. -290) – Inter University Collaboration to Strengthen  Human and Institutional Capacity in Eastern and Central African Countries Emerging from Conflicts. 2008-2012. Eucharia Kenya (PI), Essa Ali (Sudan), Bendantunguka Tiisekwa (Tanzania), Goeffrey Tusiime (Uganda) and Daniel    Rukazambuka (Rwanda). POUNDS STRERLING 105,000.
TDR/WHO - Establishment of a Reference Training Centre in Effective Project Planning and Evaluation in Biomedical Research for Eastern and Central Africa. 2008-2009. Grace Murilla (PI), Johnson Ouma and Eucharia Kenya. USD 30,000.
Regional Universities FORUM for Capacity Building in Agriculture – Nurturing grant to support M. Sc students. 2007-2009. Eucharia Kenya (PI), Ethel Monda and Samuel Otor.  USD 66,250.
Association of African Universities Leadership - Senior Executive Attachment Programme for Senior University Managers 2007. Eucharia Kenya. USD 5,000.