Dr. Rossa N. Nyoike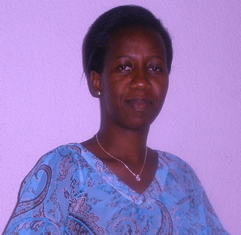 Name: Rossa N. Nyoike                                                                                
Title/Qualification: Dr.
Position: Lecturer
Department: Biological Sciences
School:  SPAS
Area of Specialization:  Animal Ecology
Contact Address: P.O. Box 6- 60100, Embu, Kenya.
E-Mail: This email address is being protected from spambots. You need JavaScript enabled to view it.
Short Biography
Holds a Ph.D. in the field of Animal Ecology from Philips University of Marburg in Germany, and a Masters of Science degree from Kenyatta University in the same field. She is a lecturer at University of Embu, in the Department of Biological Sciences and has previously worked as a lecturer at The Catholic University of Eastern Africa. She has done research in areas of taxonomy and biodiversity of amphibians and ants. Her two latest publications are on Diversity and Abundance Patterns of Amphibians in Rehabilitated Quarries of Bamburi Near Mombasa (Kenya) and DNA barcodes for species identification in the hyperdiverse ant genus Pheidole (Formicidae: Myrmicinae).

Research Interests:
Biodiversity survey: molecular/morohological taxonomy.
Ecological community patterns.
Conservation of Biodiversity.
Natural resource utilization & sustainable development.