Dr. Daniel Mutiso Nthiwa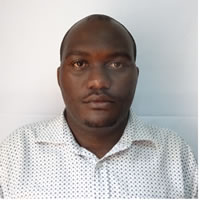 Name: Dr. Daniel Mutiso Nthiwa
Title/Qualification: Ph.D
Position: Lecturer
Department: Biological Sciences
School: School of Pure and Applied Sciences (SPAS)
Area of Specialization: Epidemiology, Parasitology and Applied Microbiology
Contact Address: P.O Box 6, 60100, Embu, Kenya
E-Mail: This email address is being protected from spambots. You need JavaScript enabled to view it.
Short Biography
Holds a Ph.D in Applied Microbiology (Epidemiology option) from the University of Embu, Kenya, a Masters in Applied Parasitology and Bachelor of Science in Biology both from the University of Nairobi, Kenya. His Ph.D work was supported under the International Livestock Research Institute (ILRI) – German Academic Exchange Services (DAAD) joint scholarship, and was hosted at the Department of Animal and Human Health, ILRI, Kenya. In his Ph.D, Daniel investigated on how different land uses and varying levels of livestock-wildlife interactions affect the transmission dynamics of foot-and-mouth disease (FMD), Brucella spp. and Leptospira spp. in cattle in Maasai Mara ecosystem, South-Western Kenya.
Research Interests
•    Epidemiology.
•    Parasitology.
•    Applied Microbiology.
•    Ecology of infectious diseases in marginalized areas.
•    Modelling the transmission dynamics of infectious diseases.