Jefitha Daniel Njagi Gachanja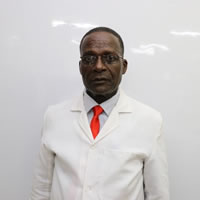 Name: Jefitha Daniel Njagi Gachanja
Position: Principal Technologist
Department: Biological Sciences
School:   Pure and Applied Sciences
Contact Address: P.O. Box 6-60100 Embu
E-Mail: This email address is being protected from spambots. You need JavaScript enabled to view it.
Short Biography
HND  ( Kenya Polytechnic)
Diploma in Laboratory Management Paddington College-London
Education Diploma –Paddington College-London
Diploma in Parasitology Queen Mary College-London
Biological Laboratory Technology Certificate (Kenya Polytechnic)
Working experience
2013- To date Principal Technologist, University of Embu
Supervisory management for the departmental Senior Technologists/ Technologists/Technicians and Junior Technicians.
Running practical classes for under and postgraduate students in Zoology
In-charge of Departmental Biological Laboratories i.e. Botany lab (70) students). Biochemistry lab (30) students. Microbiology lab (30) students and Zoology Lab. With a capacity of 60 students.
University of Embu, P.o. Box 6-60100 Embu.
2012 and Before Chief Technologist at JKUAT and Kenyatta University.
Preparing for practicals in Zoology Classes and Supervisory management
Membership
Before 2012 and up to date; Fellow Member of Institute of Science and Technology (FIST) UK
Awards
Certificate of excellent worker in JKUAT.